Finally, Our first two Litters were born at Whispering Wind.
Thought they never get here.
Below are a few pictures of the two litters. One is a Red White Crested litter
and the other is a American litter mostly brokens.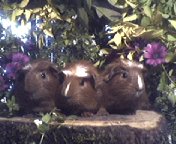 These are 3 Red , White Crested Boars. Their not showable, but are darn cute.
Two on both ends are Irish Setter Red and the one in the middle is a lot lighter. More of a red.
They are out of :
Newland's Chili 2 x Whispering Wind's Autumn SunRise
( Newland's & Dainty Bit's Lines )
DOB: May 6, 2002
____________________________________________________________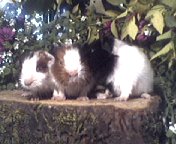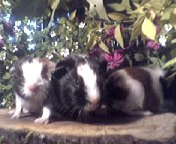 This is the second litter born here at Whispering Wind.
Their 5 days old when these pictures were taken. 2 are a TSW, and 1 is a Broken Black & White
They are out of 2 of our Foundation Stock.
Whispering Wind's Ty x Whispering Wind's Moonlight Dancer
DOB: May 17, 2002
Ty is a TSW and Dancer - broken black & white.
Their back ground is unknown to us and along with the breeder.
We know it's a long road to travel in making a new line of animals. We wouldn't be doing it,
If it wasn't Fun & exciting breeding & raising , showing these animals.